MyIDTravel - User Guide 2.1 Edition
Revenue Management
Reference Document
Subject: myIDTravel- User Guide 2.1 Edition
For usage of : IY Staff
Ref No.: RM_Int'lAff – myID 2.1
Effective Date: 25 Feb 2018 until Further Notice
Contact: [email protected]
Mission

(for Information)

Description

This guideline will explain to you the benefits of the system and how to use the
myIDTravel system in details.
Download User Guide
myIDTravel- User Guide 2.1 Edition
New changes in this Edition
Following items are the main changes in this Edition:
1. This handbook is valid effective 25 February 2018. Please ignore previous Editions
herein after.
2. Changing the design of the system windows to the new design.
3. Adding a table contains all airlines agreements in myIDTravel (6, 7).
4. Adding new notifications & technical requirements pages (8, 9).
5. Slight change in myIDTravel form (1.1) page 25.
6. Adding new additional form (1.2) page 26.
1. What is myIDTravel
MyIDTravel is the leading, global ID travel management solution. It enables airline
employees to purchase tickets online and list/re-list them directly on the operating airline's reservation system.
2. About This guideline
This Handbook provides you with a basic understanding of the myIDTravel system. After you have read this User's Guide you will be able to perform your bookings/listings on the transporting carriers' flights.
Basheer Al-areqi
Najeeb Al-selwi

First edition Supervised by:
Nasser H. Alsawady

Updates under supervision of:
Mariam M. Alhamdani
3. Why myIDTravel
Using myIDTravel, IY staff can conveniently book and settle flights electronically for
themselves as well as for family members by using a central system from any web-enabled PC/Laptop at any time.

MyIDTravel is distributed worldwide as "Software as a Service" and offers a very attractive pricing structure with no direct costs to you. The traveler pays a coupon-based fee which follows a declining price model bound to the amount of coupons guaranteed by the whole myIDTravel community. No further charges, fees or costs will apply.
4. Ticketing Authority:
Leisure tickets (ZED): will be issued by Yemenia staff themselves.*
Duty tickets (MIBA): will be issued by International Affairs Dept [myIDTravel].*
*[ in the event that the airline is not subscribed in myIDTravel , tickets going to be issued as usual from IY authorized offices ]
5. Types of Agreements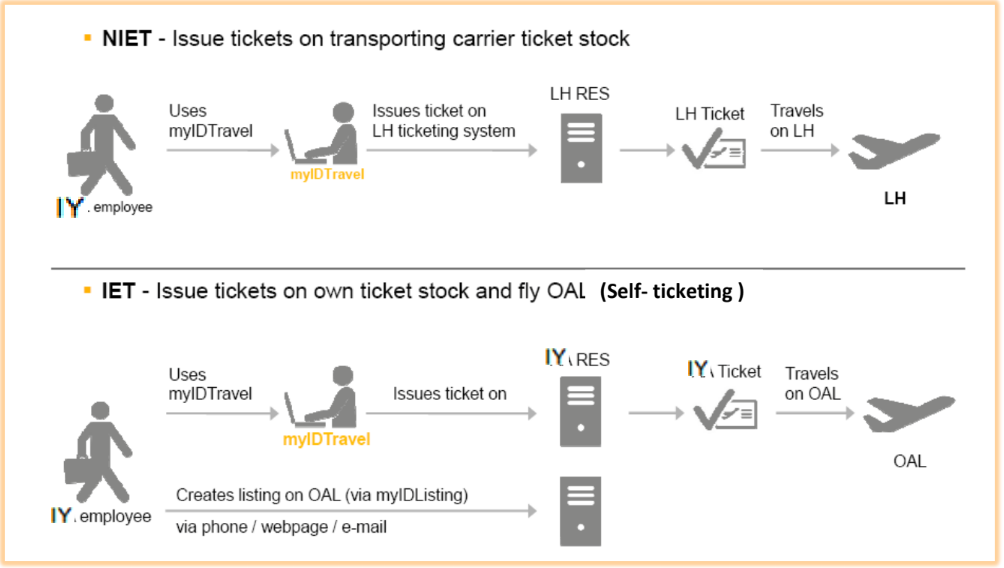 6. Types of ZED/MIBA booking status
YR1 : ZED Confirmed Economy class
YR2 : ZED Space Available Economy class
CR1 : ZED Confirmed Business Class
CR2 : ZED Space Available Business class
YS1 : Duty Confirmed Economy class
CS1 : Duty Confirmed Business Class
YC1 : Duty ( DHC *) Economy Class
CC1 : Duty ( DHC ) Business Class
* DHC Dead head crew
7. Airlines agreements in myIDTravel

Sr.
No
Airline
Code
Airline Name
Country
Subsidiaries
Standby
Travel[R2]
Class : C
Standby
Travel[R2]
Class : Y
Confirmed
Travel [R1]
Class : C
Confirmed
Travel [R1]
Class : Y
Status
1
DE
Condor
Germany
C
Y
Y
Valid
2
GF
Gulf Air
Bahrain
Y
Valid
3
YV
Mesa Airlines
USA
Y
Valid
4
ZI
Aigle Azure
France
Y
Valid
5
AZ
Alitalia
Italy
Y
Valid
6
LH
Lufthansa
Germany
C
Y
Y
Valid
7
DL
Delta Airlines
USA
Y
Suspended
8
KL
Royal Dutch Airlines
Holland
Y
Suspended
9
TK
Turkish
Airline Turkey
Y
Suspended
10
AB
Air Berlin
Germany
4T, HG
Y
Y
Suspended
11
7F
First Air
Canada
Y
Valid
12
WN
Southwest Airlines
USA
Y
Suspended
13
EN
Air Dolomiti
Italy
C
Y
C
Y
Valid
14
AF
Air France
France
Y
Suspended
15
EY
Etihad
UAE
Y
Y
Valid
16
WY
Oman Air
Oman
C
Y
Y
Valid
17
SV
Saudia Airlines
K.S.A
C
Y
Y
Valid
18
UX
Air Europe
Spain
Y
Valid
19
KM
Air Malta
Malta
Y
Suspended
20
ME
Middle East Airlines
Lebanon
Y
Suspended
21
ME
Middle East Airlines
Lebanon
Y
Suspended
22
OK
Czech Airlines
Czech
Y
Valid
23
ET
Ethiopian Airlines
Ethiopia
KP
Y
Suspended
24
MH
Malaysia Airlines
Malaysia
Y
Valid
25
XQ
Sunexpress
Turkey
XG
Y
Y
Valid
26
EK
Emirates
UAE
Y
Valid
27
S4
Azores Airlines
Portugal
SP
Y
Valid
28
4U
German wings GmbH
Germany
EW
C
Y
C
Y
Valid
29
SK
SAS
Denmark
Y
Valid
30
IG
Meridiana
fly Italy
I9
C
Y
C
Y
Valid
31
OU
Croatia Airlines
Croatia
Y
Y
Valid
32
WF
Wideroes
Norway
Y
Valid
33
G4
Allegiant
Air USA
Y
Valid
34
KQ
Kenya
Airways Kenya
Y
Valid
35
BM
bmi Regional
England
Y
Y
Valid
36
9K
Cape Air
USA
Y
Valid
37
WX
City Jet
Ireland
Y
Valid
38
ST
Germania
Germany
Y
Y
Valid
39
5T

Canadian North
Canada
Y
Suspended
40
JP

Adria Airways
Slovenia
Y
Y
Suspended
41
AD

Azul
Brazil
Y
Suspended
42
X3
TUIfly
Germany
Y
Y
Valid
43
KS
Penair
USA
Y
Valid
44
0B
Blue Air
Romania
Y
Y
Valid
45
I9
Air Italy
Italy
Y
Y
Valid
46
KP
Asky Airlines
Africa
Y
Suspended
47
4T
Belair
Germany
Y
Y
Suspended
48
EW
Eurowings
Germany
Y
Y
Valid
49
HG
Niki
Austria
Y
Y
Suspended
50
QR
Qatar Airlines
Qatar
Y
Y
Suspended
51
SP
Spirit Airlines
USA
Y
Valid
52
XG
Sun Express
Germany
Y
Y
Valid
53
K5
Seaport Airlines
USA
Y
Suspended

45 I9 Air Italy Italy Y Y Valid
46 KP Asky Airlines Africa Y Suspended





There are two types of travel modes :-
A. Confirmed travel
B. Standby travel
All Airlines grant standby as default & some grant confirmed as well.
Click ID agreement button in the navigation bar at the right corner of the system screen for more details about the agreements such as (eligible persons, fare levels,payment & refund requirements, airlines helpdesk contacts & etc).
For more information about airlines policies & requirements go to <a href="http://www.flyZED.info
8" class="redactor-autoparser-object">www.flyZED.info
<a href="http://www.flyZED.info
8" class="redactor-autoparser-object">8. Before you fly
Before you fly you have to be careful about the following points:-
Please be attention to visa requirements especially in transit situations.
Be careful and make sure to hold all your required travel documents.
9. Technical Requirements
Please check if your browser complies to the following minimum required web browser versions in order to use myIDTravel.
Desktop:
- Internet Explorer 8 or higher with Windows OS 7 and higher
- Google Chrome 30 or higher with Windows XP SP2, OS X and higher
- Apple Safari 7 or higher with OS X10.9 and higher
- Mozilla Firefox 25.0.1 or higher with Windows XP SP2, OS X and higher
Mobile:
- Internet Explorer Mobile 10 with Windows Phone 8
- Google Android OS Browser with Android 4.4 and higher
- Apple Safari 5 or higher with iOS 5 and higher
- Mozilla Firefox 25.0.1 with iOS 5, Android 4.4 and higher
10. How to join myIDTravel
Fill-up your personal and family details as per passports in myIDTravel form 1.2
(Annex A).
Certify and Stamp the form by HR.
Send the form to Intl. Affairs Dept. [myIDTravel Team] to create an account for you.
Upon creating an account for you a link will be sent to your email immediately.
Click on the link and create your own password.
The link is valid for 2 hours only, hence you're requested to access your email immediately.
11. First-Time Login to myIDTravel
Before using myIDTravel you need to generate a password.
Password will be used for all future transactions.
To begin click on http://www.myidtravel.com
The myIDTravel login screen will display as shown below.
Select Yemenia – Yemen Airways as an employing airline.
Click on Request new password? See in red below.

Enter your user ID as shown below.
Click on "Request password" button.

System will send an email to your email address. See below.
Click on the link provided.

Enter your new password and confirm it, then click change password.

You will be prompted to below screen.

Tick accepts the privacy statements box and click confirm to proceed.

12. How to issue ticket
12.1 Booking/Listing
Booking/Listing allows you to purchase confirmed/standby tickets on other carriers.
Note: You can't book/list and issue ticket for more than 90 days with most Airlines.
 12.2 Traveler Selection

The Traveler Selection screen (shown below) will be displayed contains all persons eligible
to travel according to your employee profile.
Make sure all names of eligible persons for travel matching with their passports.
Select the individuals who will be travelling.

12.3 Flight Schedule Query
If you wish to make changes to your selections, click the back button at the bottom of the query screen and make a new selection on the Traveler selection screen.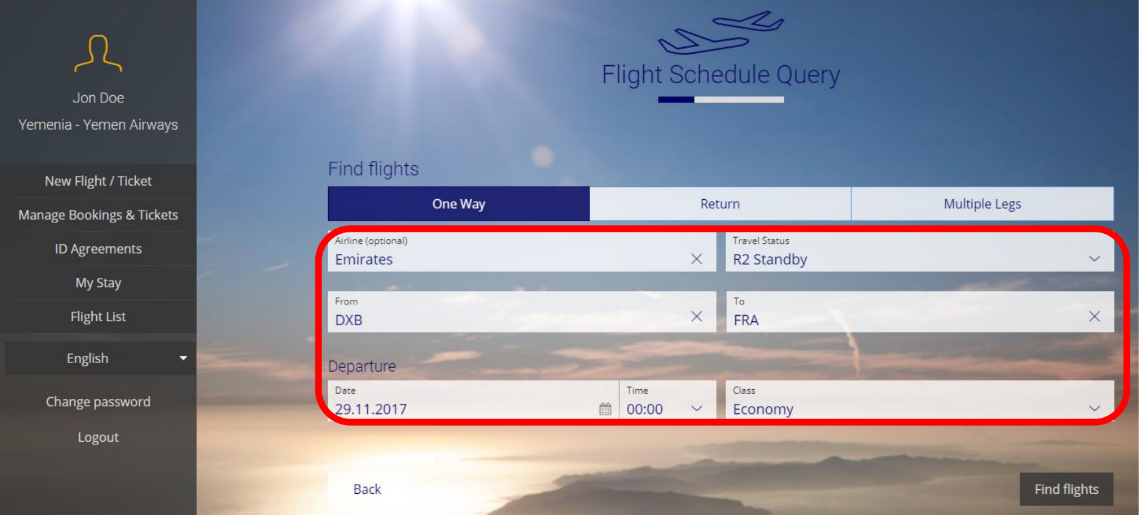 In the lower section of the page, please define your flight schedule query before clicking the
find flights button to display flights matching your search criteria.
The Travel Status will be either:
Y/C/F chose the class you want to travel with
R2 Standby
R1 Confirmed
12.4 Flight Schedule Display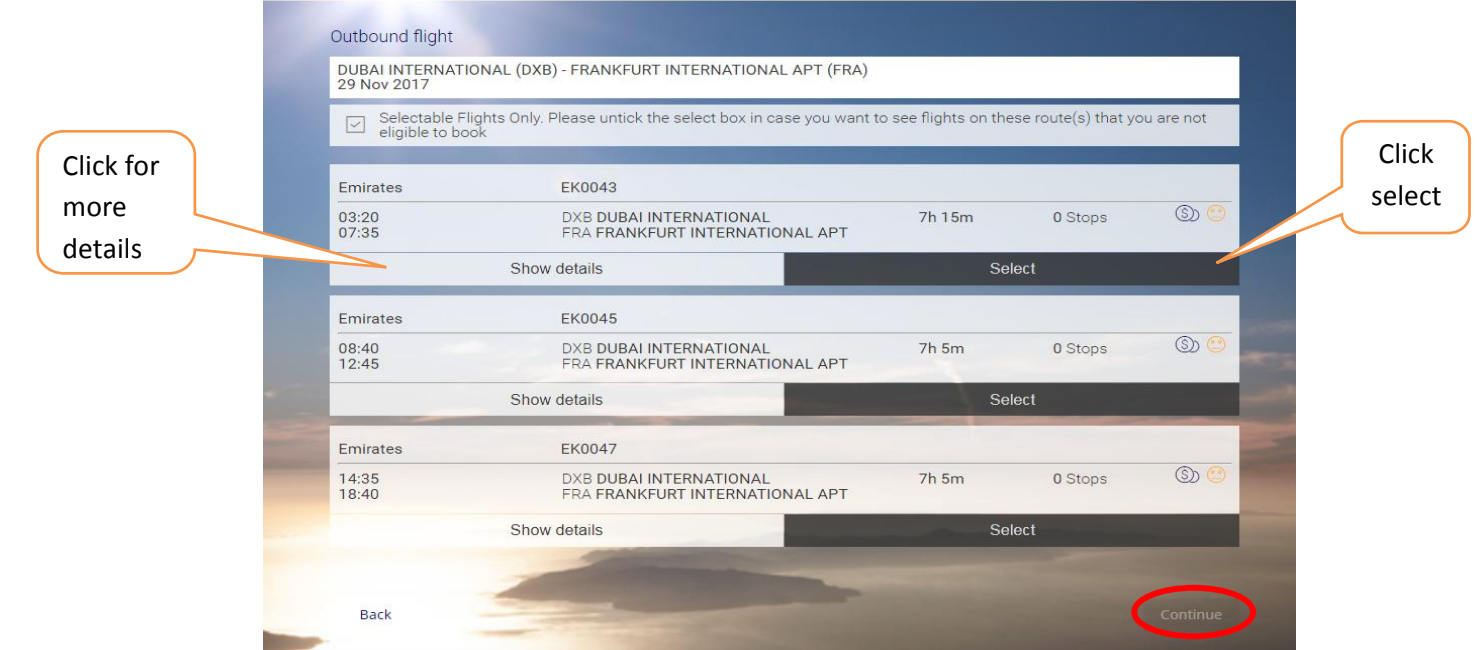 In certain cases, not all flights will have a radio button to select because: -
The flight is a code-share flight.
The flight is operated by an airline that does not have an ID travel agreement with Yemenia
The passenger is not allowed to travel according to the ID travel agreement with the specified airline (e.g., not all airlines allow parents/dependents etc. to travel).
If a flight is not selectable for whatsoever reason, no radio button will be shown next to the flight number.
Click on show details (or click on the blue $ icon) to get additional information about the respective flight and the reason why a flight is not selectable). In addition there are also indicators for the booking situation.
The following options exist as following:

(Green) good chance
(Orange) moderate chance
(Red) bad chance
12.5 Shopping Basket

After you have successfully chosen your flight, you will get an itinerary of your selection.
(By clicking continue you acknowledge the itinerary as below)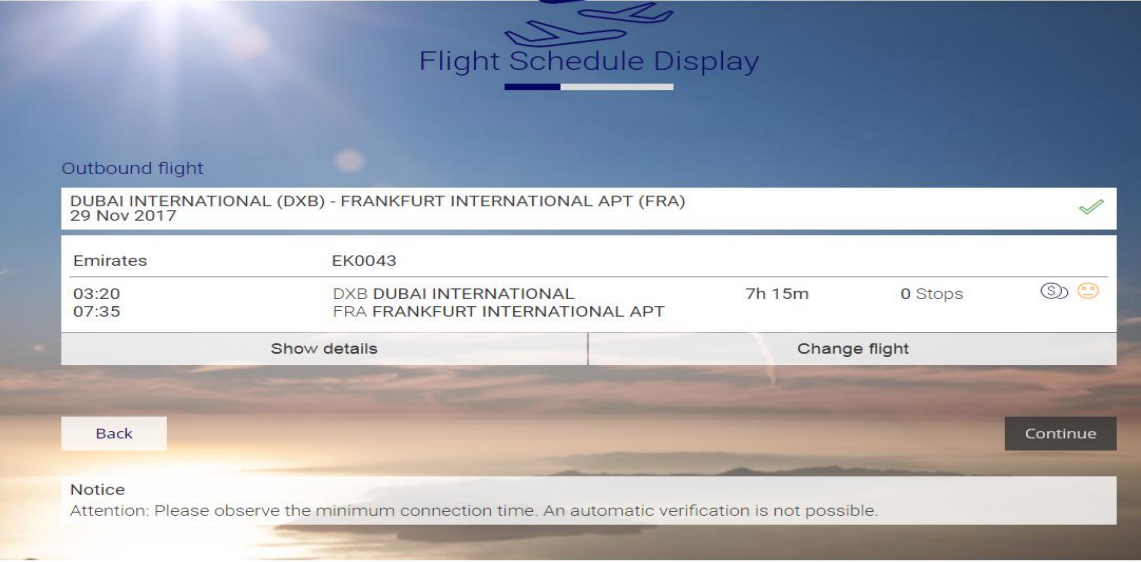 12.6 Fare information

On the Fare Information page, all applicable fares, government taxes and administrative fees charged by myIDTravel will be shown for the selected itinerary, separated by airline and passenger. All amounts highlighted in grey will be charged to your credit card by the ticket-issuing airline in the currency stated.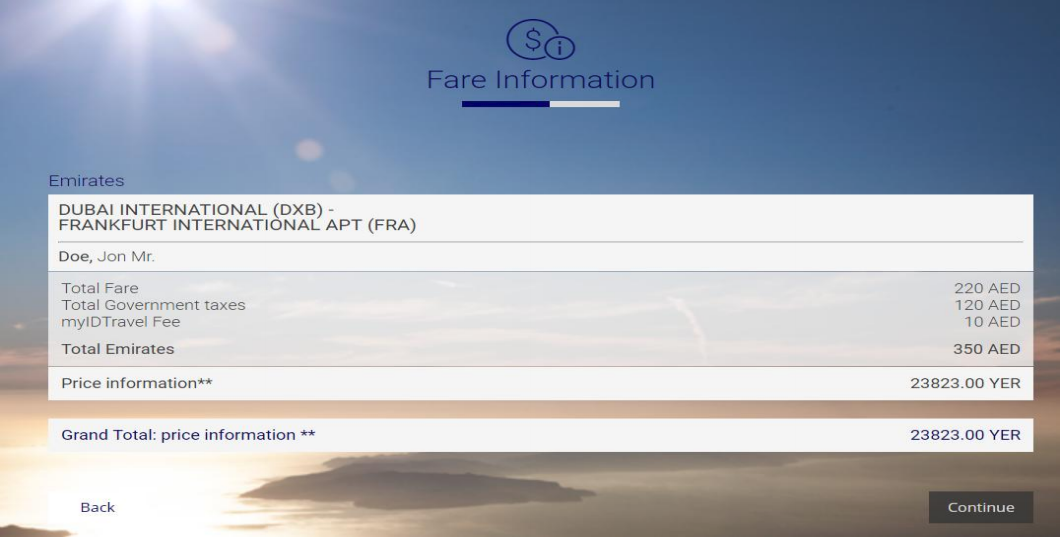 12.7 APIS/Secure Flight.
Fill-up all required information about your passport for each passenger.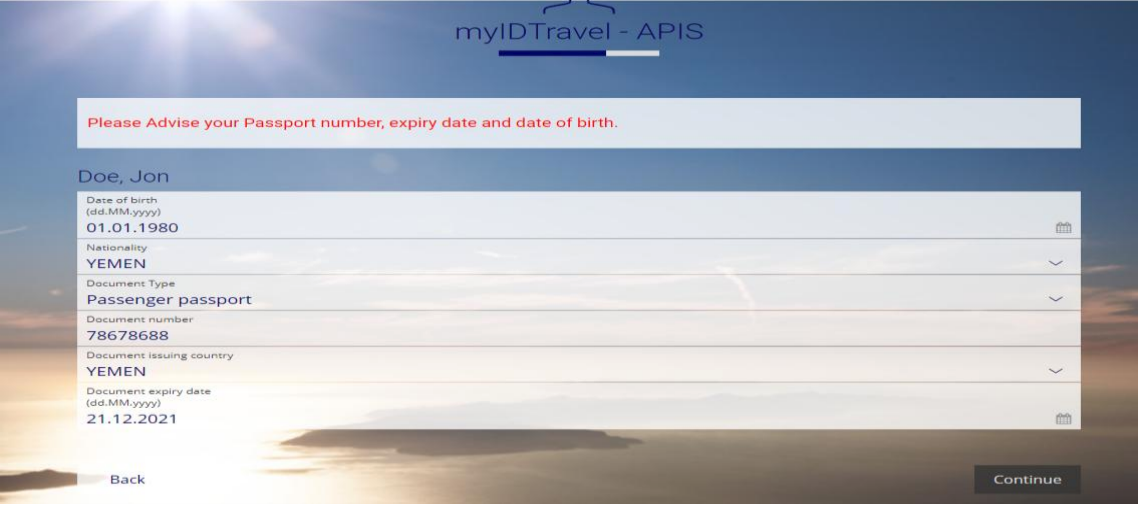 12.8 Contact and payment information
The Contact and Payment Information screen is pre-populated with your email information from your staff profile. You are required to complete the phone numbers and may change the email to another address if you prefer. Please double check all information on the page.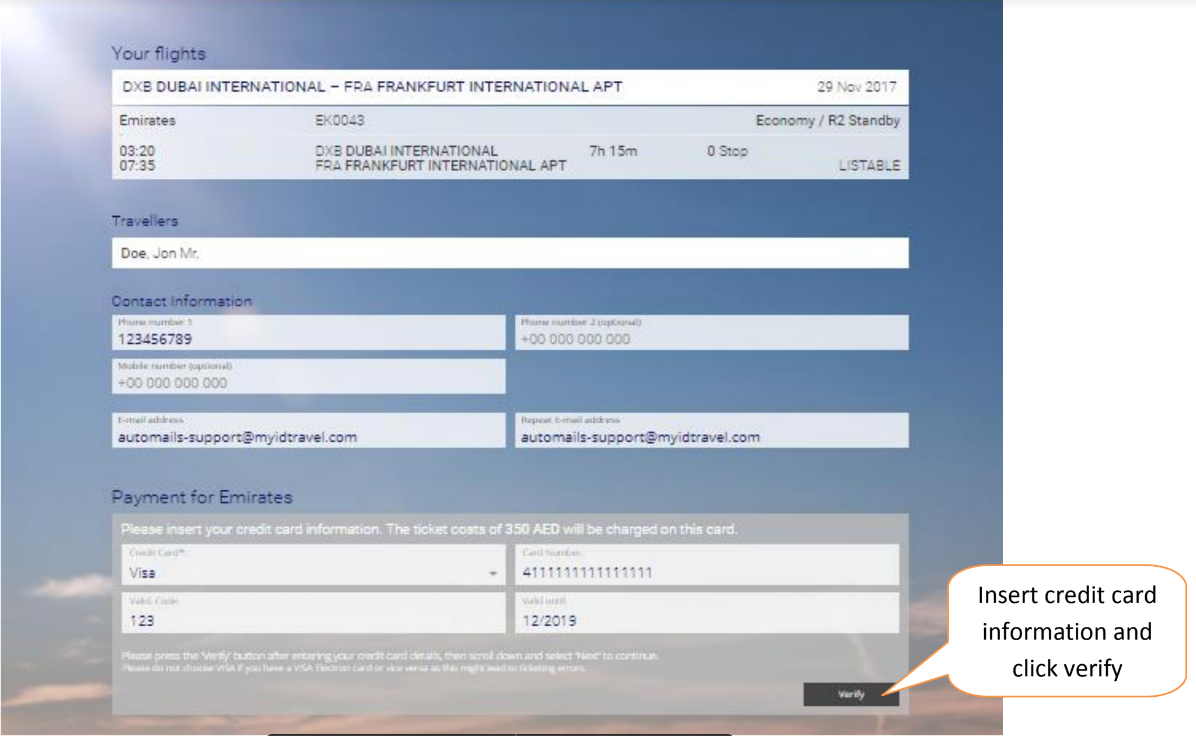 You will receive a message that your credit card was successfully saved for the current booking as below. You may also edit the credit card information at this time.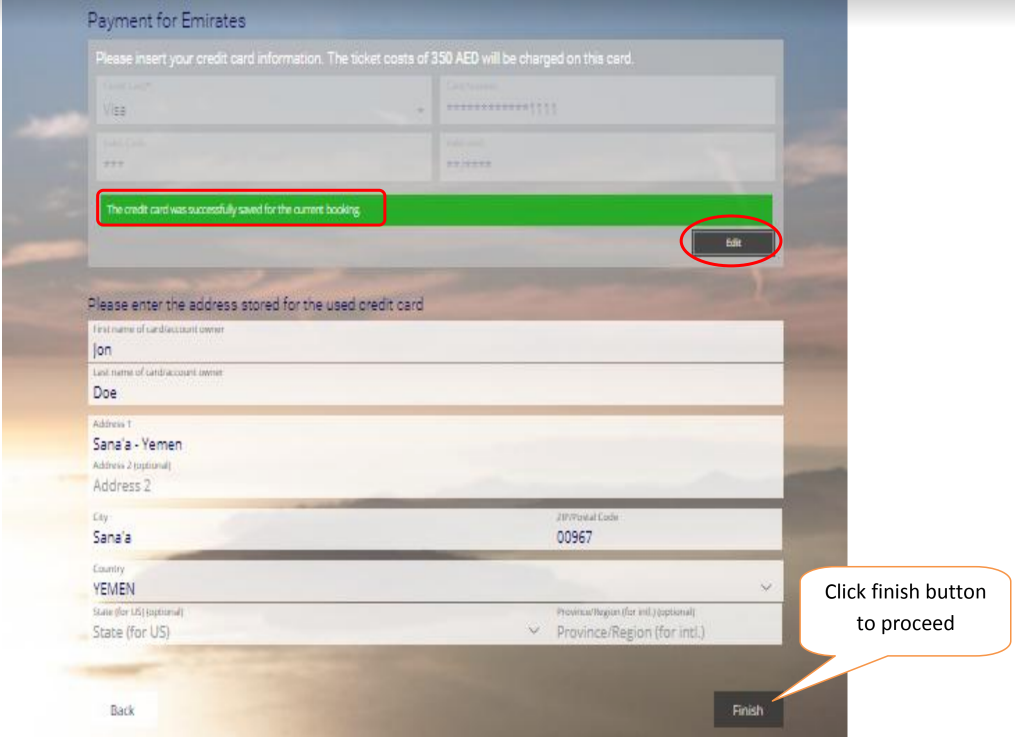 Note: To obtain your ticket, please be prepared with your bank to provide you with a valid online credit card for payment.
12.9 Confirmation

After issuing ticket is complete, you will see a confirmation screen with a summary of your itinerary as well as the booking reference code (and ticket number). You may write down the code so you can retrieve the booking if needed.
By clicking on the PNR reference, you will obtain the e-ticket number.
Ensure you make note of the PNR and e-ticket number as you will be unable to retrieve the PNR or e-ticket number without the actual reference.
It's recommended that you print the confirmation page so you have all of the information available at a glance.

Note: Please read the travel conditions carefully as all airlines are varies from one another.
12.10 Confirmation Email

A confirmation email will be sent to your chosen email address. The confirmation email will outline check-in procedures for each carrier as below:


13. Navigation Bar

Accessing the main functions of myIDTravel, use the navigation bar in the right area of the screen as shown below:

New Flight/Ticket: allows you to book your flight itinerary.
Manage Bookings & Tickets: allow you to create new booking/listing with an existing e-ticket. (E-tickets remain valid for 90 days from date of issue).
You must have the e-ticket number. Original PNR must be cancelled before making new booking/listing and it can be created with existing e- ticket.
ID Agreements: contains a list of the rules and regulations for travel on other carriers. This includes ZED fare levels and designates eligibility. The information contained here is supplied by the transporting carrier.
My Stay: allows you to book Hotels, rent cars, and any other accommodation over the world.
Flight List: contains all tickets issued by your user account.
English: allow you to choose the language.
Change password: allows you to change your password.
Logout: enable you to log out of myIDTravel application.
Travel conditions vary from airline to airline and are subject to change. These conditions include, but are not limited to: dress code, flight listing, check-in requirements, embargo periods, travel warnings, and free baggage allowances.
International Destinations
If your travel involves international destinations, please make sure to:
Find out the documentation and vaccination requirements for each leg.
Check out that you have enough information of each country you are planning to travel to of their travel warnings and immigration requirements.
14. PNR Retrieval
To retrieve an existing booking change or cancel, please click the manage bookings & Tickets button from the navigation bar & select PNR to retrieve.
here is a picture

Click retrieve PNR to retrieve your booking from the airline's reservation system & display it.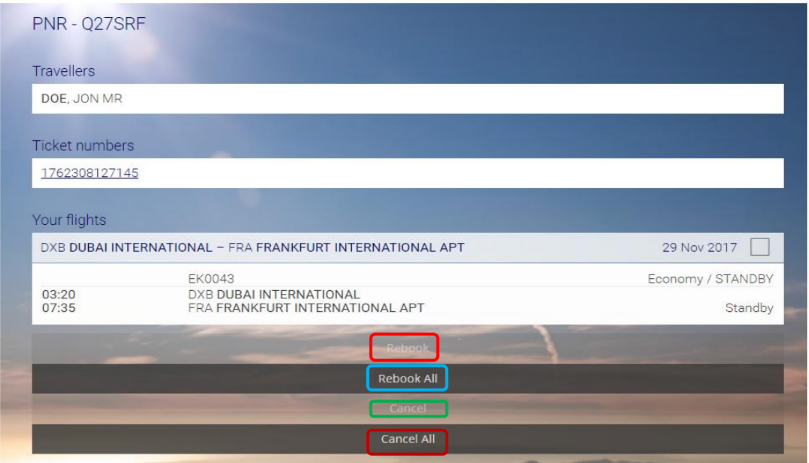 Rebook: To change a segment.
Rebook all: To change all segments.
Cancel: To cancel a segment.
Cancel all: To cancel all segments.
15. Ticket Retrieval
To retrieve a ticket details provide the ticket number & click retrieve ticket as below.

The coupon may have different status as below:-
(Open) indicates that the involved coupon has not been used.
(Used) indicates that the involved coupon has already been used for travelling.
(Refund) indicates that the ticket was refunded by the airline.

Important notes: -
Ticket cannot be refunded before canceling your itinerary.
Refunding a single ticket can only be done once (if you refund one segment, another segment cannot be refunded later).
It's recommended to issue your ticket by sectors if you are not sure whether you're coming back or planning for a new trip.
Refunding process may takes approximately 30 days.
Refund valid for one year from date of issue.
Refunds may be processed for a non-utilized ticket with an "open" status only.
Refund a partially utilized ticket takes time to be processed, therefore its recommended to issue your tickets on a single sector basis to simplify your refund process.
16. Support/helpdesk
Should you have any queries, please contact the myIDTravel support helpdesk at
[email protected]
Note: In case myIDTravel is not available/or down for any reason you will receive the following message as below, therefore you need to wait for a while before login again.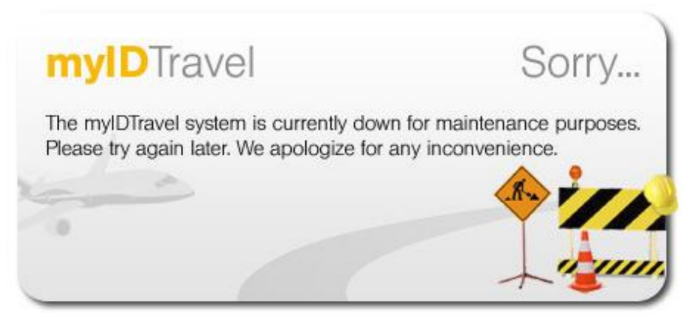 17. Glossary
Term/Abbreviation
Explanation
APIS
Advanced Passport Information Security
Booking
A booking with confirmed status
Code share flight
A flight operated by another airline rather than the plated airline
Employing Airline
A staff representing the airline allowed to use MyIDTravel
ID Travel
Industry Discount Travel
Listing
A booking with "seat available" segment status
MIBA
Multilateral interline business Travel Agreement (Duty travel)
myIDTravel
A flight booking machine created by Lufthansa
OAL
Other Airline
PNR
Passenger name record
PTC
Passenger Type Code (e.g., ADT –stands for adult passenger or ZEA-
stands for airline Employee )
Self- ticketing
Issuing tickets on own airline (e.g. IY stock 635)
Ticketing Authority
Tickets that may issue either by myIDTravel or by IY authorized office
Transporting Airline
Airline that operates a specific flight
Types of Agreement

The agreements that may include a self-ticketing (own airline stock) or( OAL ticket stock)

ZED
Zonal employee discount (Leisure travel)
18. Annexes
18.1 Annex A (myIDTravel Form 1.2) <a href="https://yemenia.com/userfiles/files/myIDTravel%20employee%20form%20(1_1)%20%20(1).docx">click here to view the form document </a> 18.2 Annex B (myIDTravel Additional Form 1.3) <a href="https://yemenia.com/userfiles/files/Additional%20MyIDTravel%20Employee%20Form%20(%201_%202%20).docx">click here to view the document </a> 18.3 Annex C (Quick Reference) 
here is a picture